La Esmeralda from Notre Dame de Paris (The Hunback of Notre Dame).
Disney Version.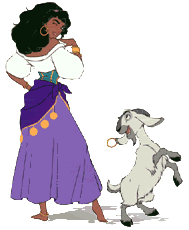 Disney Esmeralda: Older, sassier, practically knows kung fu dancing. The only Disney princess to do a canon pole AND lap dance: no wonder Judge Frollo falls in love with her! She's an outcast, a gyspy, zingara, and has a very strong sense of morals and social justice. This gal has more guts than bracelets.
I've fallen in love with Esmeralda myself *unfortunate face* and gypsies in general. Being of eastern european heritage, part of that grand melting pot of egyptian, romani and slavic blood is in my veins. And besides, the clothing is so beautiful.
Anyways, Esmeralda!
She has 3 outfits; Gypsy, dancer and maiden.
Gypsy: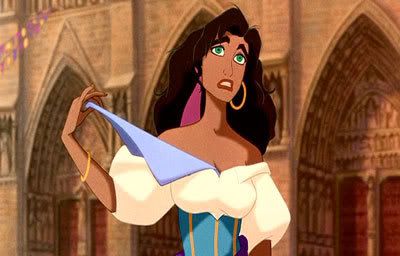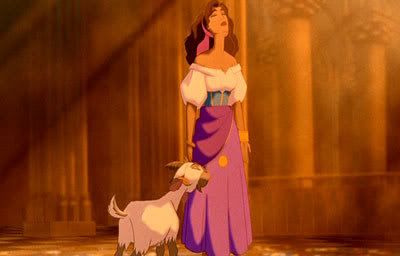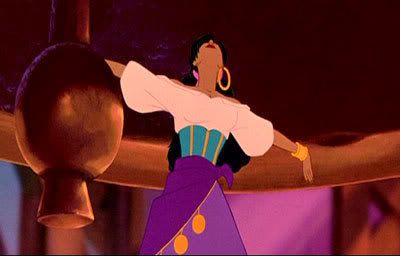 In the movie she appears to have purple skirts. Light underskirt and darker shawl with gold coins, with a frilly white underskirt. Trouble is, Disneyland Esme has blue and purple skirts: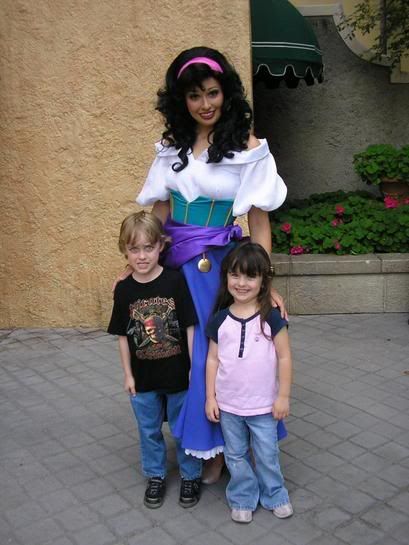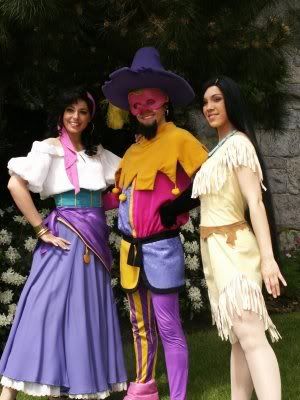 I think I like the blue version better on her, actually. The little underbust corset is something different - yes, I know, I always seem to wear corsets, but they're so yummy! The teal and yellow looks better with the blue. There's a lot of satin here, which will be a devil to work with, naturally. I am really loving the thick quality of Disneyland Esme's material. It makes it look very surreal. I'm not sure if I want to achieve a reality or a sureality with this costume - on the one hand, it's magical to see a disney princess and have her look so completely out of this world, but then there's such a beauty in bringing an animated character into true life.
La Esmeralda: Dancer
She wears this for the Feast of Fools and yes, yes, yeeees, she does a pole dance in it. And a semi lap dance. On Frollo. Esmeralda kicks ass.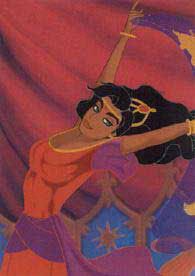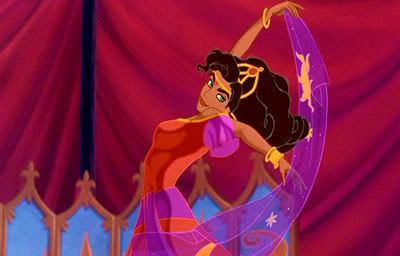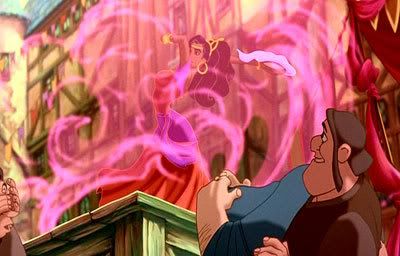 Disneyland Dancer Esme is terrible D8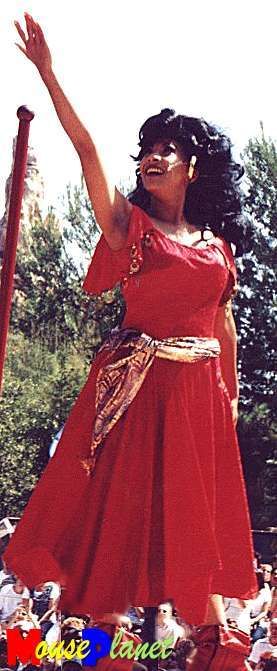 A very revealing dress for Disney - they've actually shadow outlined her curves underneath the dress! A soft velvet lycra with a rich shimmer should match this effect (with bra padding, alas), with chiffon or very thin silk for the sash and sleeves. I love the classic elegance of this dress and the rich colours. The sash and the tiara complete it, sigh.
The tiara: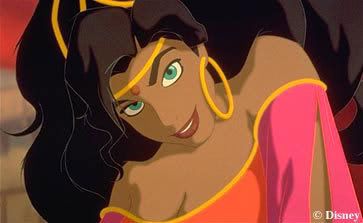 Lovely!
Esmeralda: Maiden in Distress!
The most simple dress ever: we're talk Jesus fashion, here.
Worn when she is taken prisoner after Frollo's raid on the Court of Miracles. She must choose between his bed or her tomb, condemmed for witchcraft or wed to her condemner! She spits on Frollo and accepts her fate, but is saved by Quasimodo in time for an epic ending.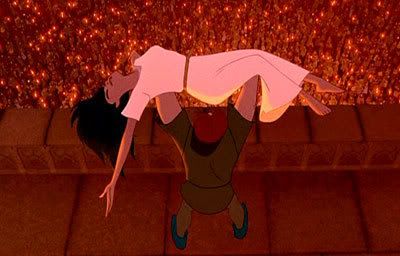 Rough cotton with a cord belt. Easy.
For Esmeralda, I will definitely be using theatric makeup to darken my skin. I won't need contacts, luckily, because with certain eyeshadows my bluegreen eyes look bright green. The wig will be fun! I will definitely be investing in a decent wig for her. I am looking into fake eyebrows since I am well aware that my own eyebrows are extremely saaad things. Drawn on may work for Catwoman, but not normal ladies.
I will be doing perhaps 3 different Esmeralda's, not including the 3 versions of her Disney costume. I MAY do musical Esme, for giggles. I am making a musical Frollo costume so I may make Esme to match. I am definitely making my own book version. So Either 3, 4 or 5. Lawd. I am making 5 Frollo's, so, may as well, huh!